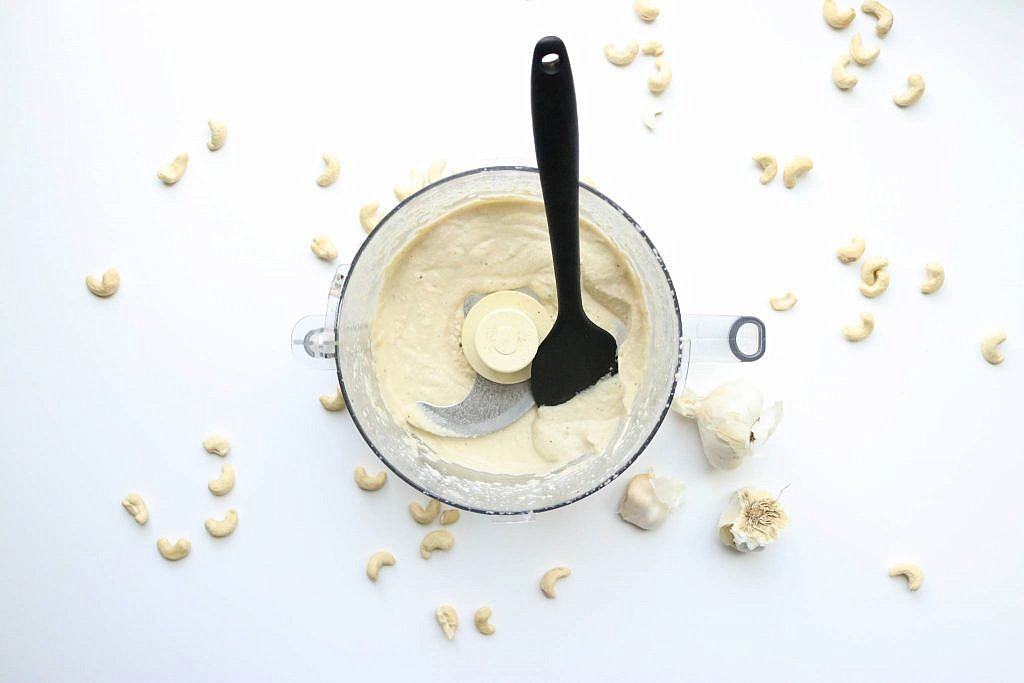 A recipe that's so versatile and extremely quick to make, this Cashew Cream Puree is one of those kitchen staples you'll want to make all the time. Treat this recipe as your base and build from it by adding in other ingredients such as apple cider vinegar, nutritional yeast, your favorite herb or spice.
Quick Health Tip: Adding in a healthy whole fat such as cashews to a whole food that is high in beta carotene and/or vitamin A such as sweet potatoes allows for an increase in the uptake of the vitamin, especially since it is fat soluble. As with most vitamins, I recommend getting your fill from whole food sources, with the exception of vitamin B12 and possibly vitamin D3.
Ingredients
1/2 cup soaked overnight organic raw cashews
1/2-3/4 cup filtered water
1 tbsp granulated organic garlic powder
Gray Celtic sea salt to taste
Organic cracked black pepper to taste
Directions
Soak raw organic cashews overnight in a bowl filled with filtered water.
Here we go! Pull out your food processor and add in your cashews, 1/2 cup of water, garlic powder, a pinch of sea salt and cracked black pepper. Now blend away!
As you're blending, you may want to add a splash or two of filtered water, but this depends on your desired consistency. I prefer a thicker puree, but it also depends on the type of dish in which you'll be using this. To use as a topping for soups, you'll definitely want to keep this puree on the thicker side.
Have a little taste test. If you feel like it may need a bit more sea salt or pepper or possibly even more garlic powder, go ahead and add that now and blend.
You're done! Go ahead and use this in your favorite recipes or store in a glass container to use in wraps, sandwiches, stir-fries or any other dish that comes to mind.