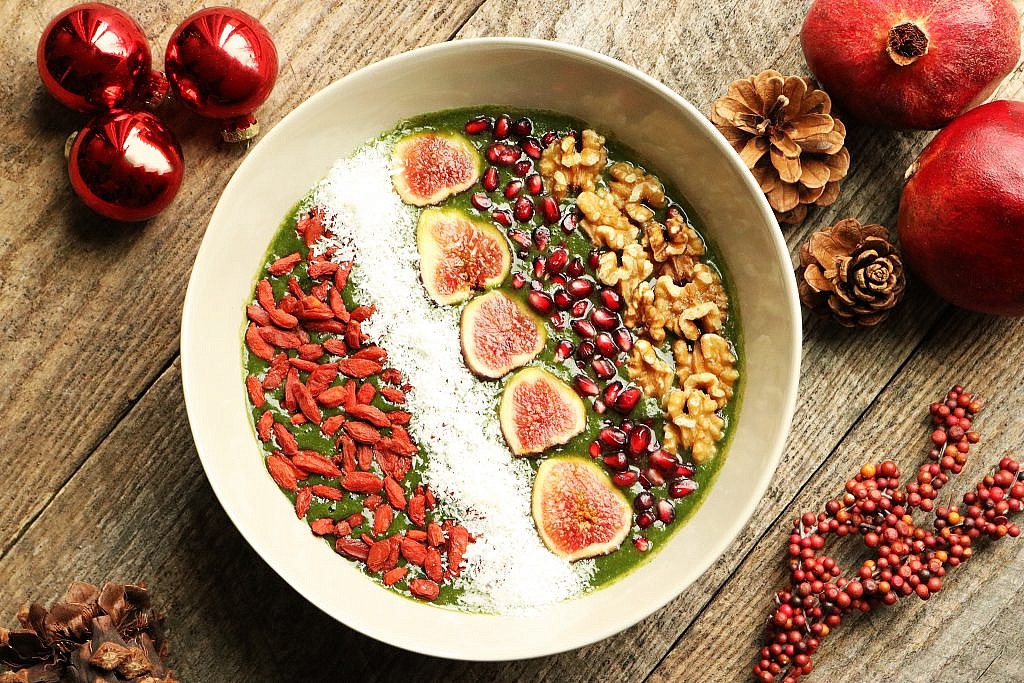 Why not start your day off with some holiday cheer! This recipe is perfect for doing just that. If you like the taste of mulled wine, you'll love the taste of this. Filled with cloves, nutmeg and Ceylon cinnamon, this smoothie bowl not only tastes like Christmas, but smells like it too. What are you waiting for, get your red and green on!
Quick Health Tip: Cloves are a wonderful nutrient-rich spice. Not only are cloves an extremely high source of manganese, they contain flavonoids called rhamnetin and kaempferol, as well as Eugenol, which make them extremely anti-inflammatory.
Ingredients
4 large organic Medjool dates
2 tbsp organic ground flaxseed
1 tbsp organic chlorella
½ tsp organic cloves
½ tsp organic nutmeg
1 tsp organic Ceylon cinnamon
1 tbsp organic chia seeds
1 tbsp one-ingredient organic almond butter
1-2 frozen organic bananas
1 large organic orange
4 cups organic kale
1 ½ - 2 cups filtered water
fresh organic figs
unsweetened organic shredded coconut
organic walnuts
dried organic goji berries
fresh organic pomegranate seeds
Directions
Grab your amazing high speed blender and let's get started!
Remove the pits from your dates.
Add all of your ingredients into the blender. Depending on how thick you like your smoothie bowl add between 1 ½ to 2 cups of filtered water.
Blend until smooth! Lift the lid and take a deep breath…how incredible is that aroma?!
Pour evenly into 4 bowls. Top off these beauties with fresh figs, shredded coconut, walnuts, goji berries and pomegranate seeds. Yum!
Merry Christmas Everyone!!