3 Aug 2017
Hazelnut Almond Chocolate Caramel Cheezcake
in Indulgence
I know you love your cheesecake, but do you love the inflammation that comes with it? Perhaps you're not lactose intolerant, but even if you don't have any obvious symptoms from eating cheesecake, science has proven otherwise. Perhaps you have a chronic illness and are on medication from it, that's enough of a sign you should be doing things differently. Let's finally move past the pro-inflammatory cream cheese, butter, eggs and white sugar. Using whole plant-based foods, you can create a cheez-cake that's not to die for, but rather to live for!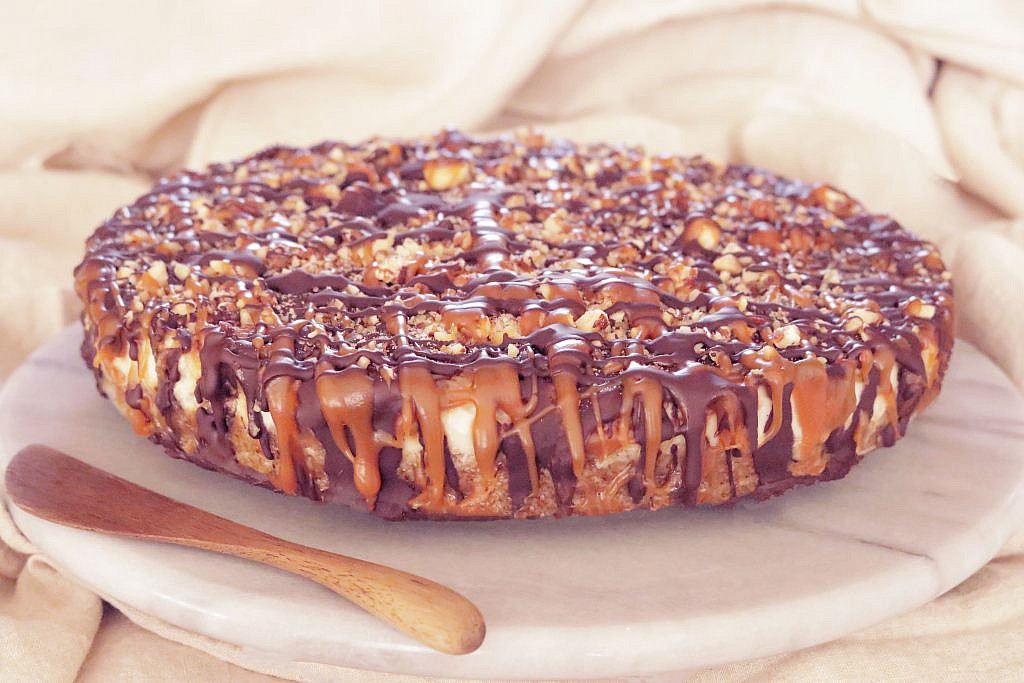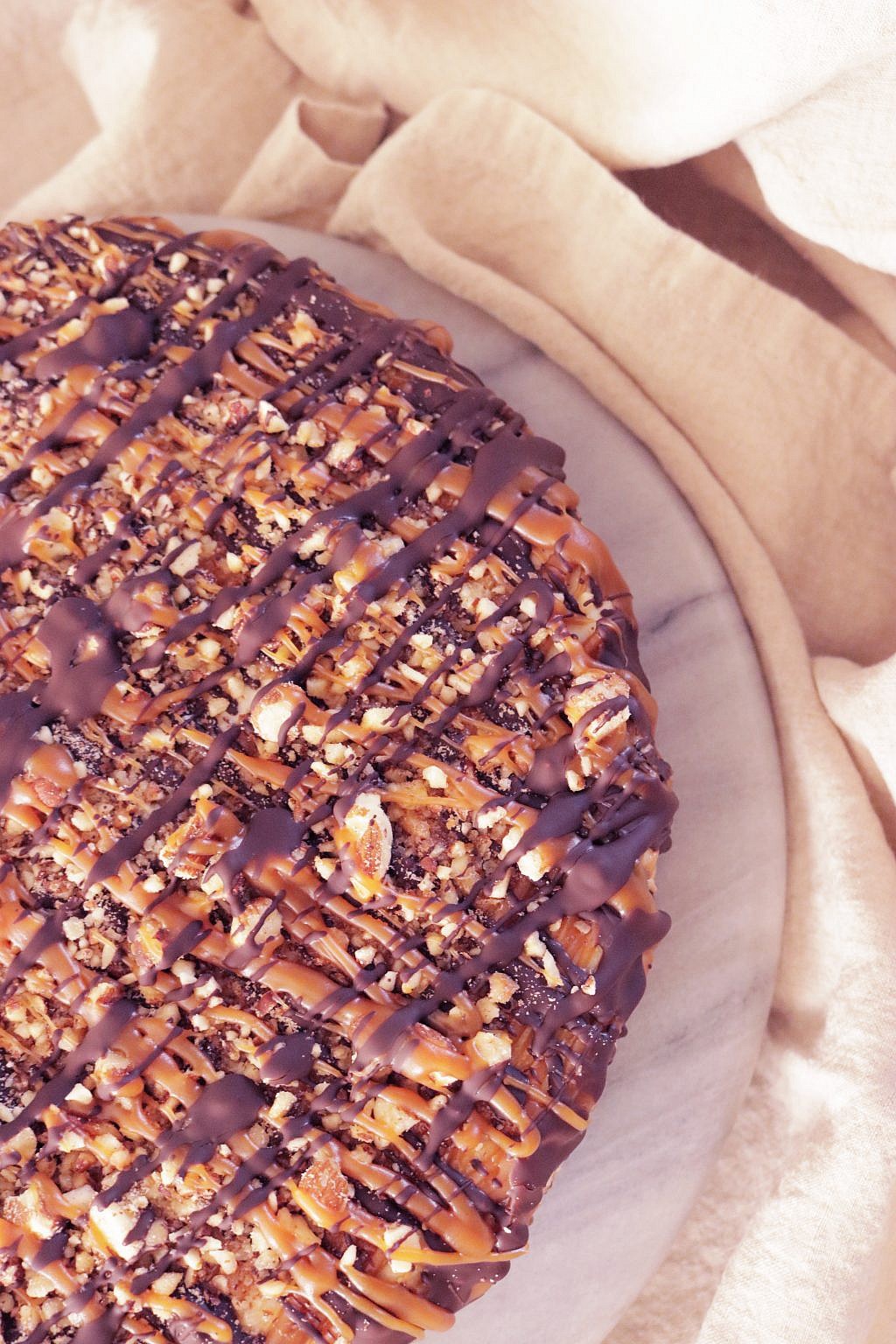 Quick Health Tip: Skip the oil! Did you know that ALL OIL is actually harmful to your endothelial cells? These are the cells that line the innermost lining of your blood vessels. The health and overall integrity of this cell lining is crucial for preventing the development of atherosclerosis and thereby, coronary heart disease. Do your endothelial cells a favor and find alternatives to all of that oil you're ingesting, yes even coconut or olive oil;) As in this recipe, use the whole, intact food instead!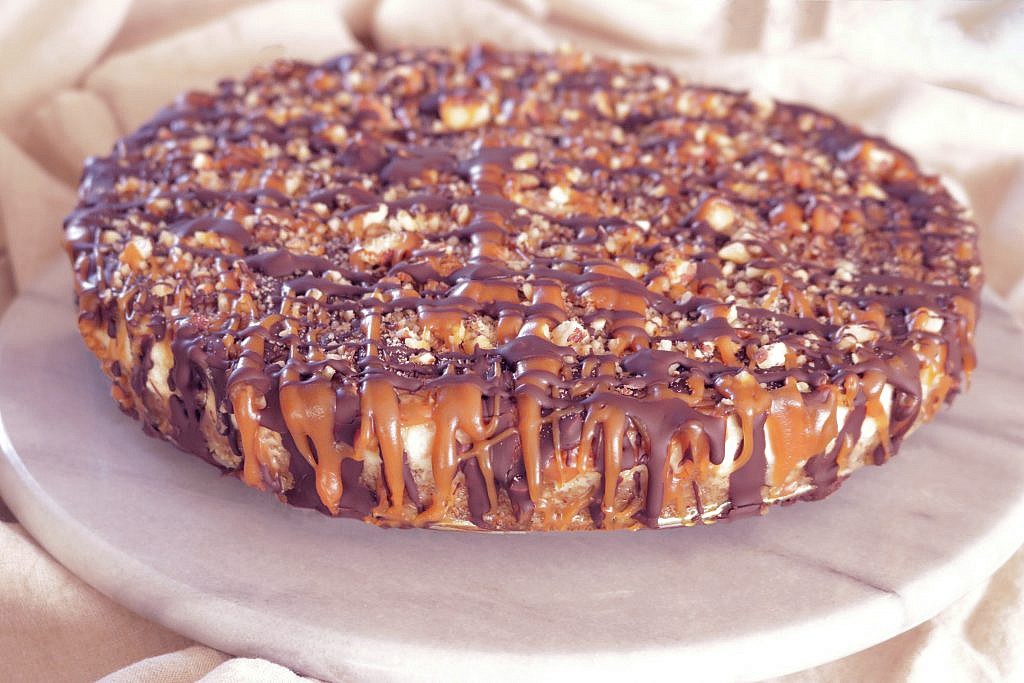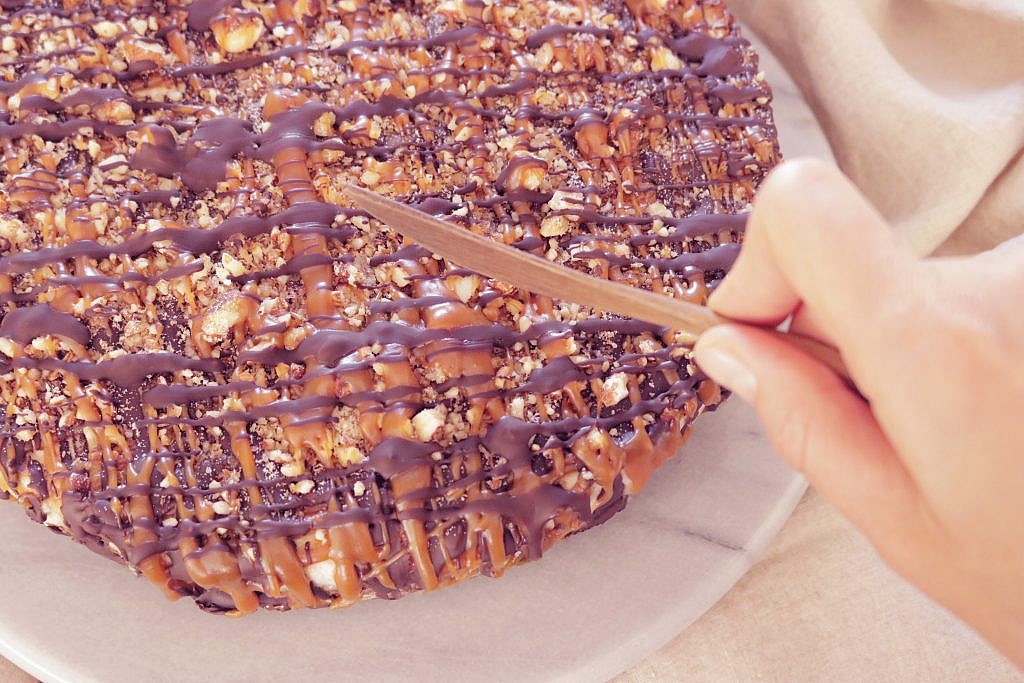 Ingredients
1 cup raw organic almonds
1 cup raw organic hazelnuts
1 ½ cups organic old-fashioned oats
2 ½ cups organic Medjool dates (or 15 large dates without pits)
2 cups overnight soaked raw organic cashews
1 organic lemon (juice)
1 whole organic vanilla bean
1 can pure organic coconut milk (no additives) or 1 large Thai coconut (without water)
4 tbsp pure organic maple syrup
Toppings: dark organic chocolate (1-2 100g bars), ½ cup raw organic hazelnuts, ½ cup raw organic almonds, Vegan Caramel Sauce by CC Made or Plant-Based Caramel Sauce
Directions
It's time to make the base! Using a food processor, add in your almonds, hazelnuts, oats and dates and blend away. You'll know when to stop once you have a very thick and beautifully blended mound of deliciousness.
Place the mixture into a 10-12-inch pan. Press down firmly until even. Viola! You have your crust.
Next you're going to make the center of the cake. Place your cashews, lemon juice, vanilla bean, can of coconut milk and maple syrup into your food processor. Then blend until completely smooth.
Pour your mixture into the pan over the crust.
Patience is a virtue. Place the cake into your freezer overnight.
Take the cake out of the freezer and let's make it look incredible!
Melt your dark chocolate over the stove. Once smooth, set aside to cool.
Using a fork, drizzle your caramel over the entire cake.
Next, using a fork, drizzle your melted chocolate over the entire cake. I did this in a crisscross pattern alternating between the chocolate and caramel, but you do you!
Top the cake off with crushed hazelnuts and almonds and the one more layer of chocolate and caramel.
Place in the freezer for 1-2 more hours. Then remove and place in refrigerator for approximately 3 hours before serving.
If you can wait, this cake tastes awesome the following day straight from the refrigerator.
Congrats, you've successfully made a cake your body will appreciate!
It's important to remember however that a whole plant-based lifestyle is very low in fat and well, since we're using a lot of coconut, chocolate and nuts for this recipe, this is definitely not low in fat. Even though all of these ingredients can be found on the whole plant-based food pyramid, keep in mind where exactly on the pyramid all of these ingredients fall. Knowing that will guide you as to what you should be eating on a regular basis. Assuming you're not going to eat the whole cake, eating a slice of this from time to time can still be a part of the whole plant-based lifestyle!