2 Oct 2017
Sweet Potato Bisque
in Good Day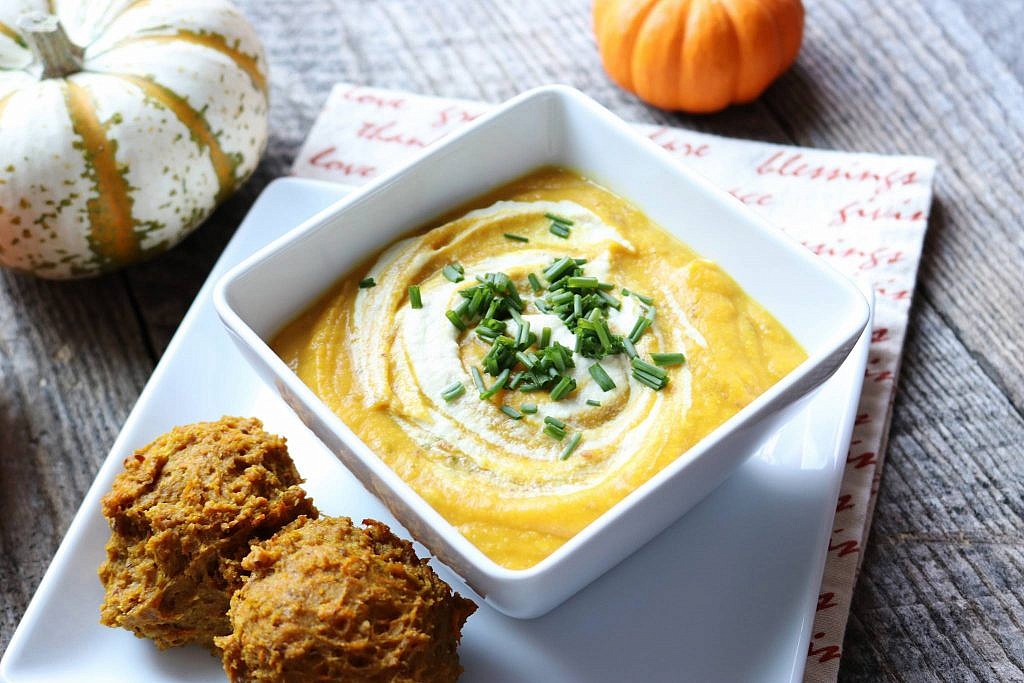 This recipe makes me warm just thinking about it. The perfect blend of sweet and savory; I look forward to every bowl. Sweet potatoes are truly a super food, or what I like to call beyond super food. One of the best whole food sources of vitamin A in the form of beta carotene, sweet potatoes make this bisque not only very nutritious but so delicious! I love making a large pot to enjoy over the course of a few days. Throw on some fuzzy socks, grab a fluffy blanket and cozy up with a bowl of this truly satisfying soup!
Quick Health Tip: As with any recipe aim for all organic and non-GMO ingredients! Choose turmeric that's organic, non-irradiated and one that contains a minimum of 4% curcumin. Make sure that your nutritional yeast has been tested for heavy metals. I personally love Braggs. Both their apple cider vinegar and nutritional yeast are of very high quality. Also, when re-heating the bisque the following day, use the stovetop rather than the microwave.
Ingredients
5 cloves finely chopped organic garlic
1 large organic chopped sweet yellow onion
3 cups filtered water (plus an additional 1/2 – 1 cup to use for the sauté)
1 cup homemade cashew milk
1/4 cup organic apple cider vinegar
2 tbsp one-ingredient raw cashew butter
1/2 inch finely chopped organic ginger
1-2 tbsp organic granulated garlic powder
2 tbsp dried organic chives
1/4 tsp organic cayenne pepper
1-1 1/2 tbsp organic turmeric powder
1-11/2 tsp cracked organic black pepper
1/2 cup Brags nutritional yeast
1-1 1/2 tsp gray Celtic sea salt
2 lbs large garnet or jewel organic sweet potatoes peeled and cubed
2 lbs large garnet or jewel organic sweet potatoes with skin on and cubed
3/4 cups cashew cream puree
4 tbsp fresh finely chopped organic chives
Directions
Add the finely chopped garlic, sweet yellow onion and 1-2 tbsp of water into a stainless steel pan. Over medium to high heat begin to sauté the vegetables. Keep stirring every minute or so and add another 1-2 tbsp of water into the pan as needed in order to prevent the vegetables from sticking to the pan. Continue this process until the onions and garlic are a beautiful golden brown. I don't know about you, but the smell of an onion and garlic sauté is truly my favorite!
In a large stainless steel, ceramic or stoneware pot add in your garlic and onion sauté, filtered water, cashew milk, apple cider vinegar, cashew butter, ginger, garlic powder, chives, cayenne pepper, turmeric powder, black pepper, nutritional yeast, Celtic sea salt and of course your gorgeous orange sweet potatoes. Bring to a boil and then let simmer for approximately 30 minutes or until the sweet potatoes are quite tender.
Using an immersion or high speed blender, blend until creamy and smooth.
Pour into individual bowls and drizzle cashew cream puree over the top of each one.
Add a dash of fresh chives and viola!
This recipe pairs beautifully with my Cheezy Pumpkin & Carrot Biscuit recipe. The pumpkin and carrot in the biscuits truly heighten the taste of the sweet potatoes in the bisque. You will simply love dipping these moist biscuits into the bisque. Are you ready to taste autumn with every bite?