Brunch just got better! Finding whole food plant-based alternatives to some of your favorite dishes are key when making lasting dietary lifestyle changes. Remember, you don't have to compromise taste simply because you're trying to incorporate more nutrient dense food. Why not have both?! This alternative to eggs benedict is perfection!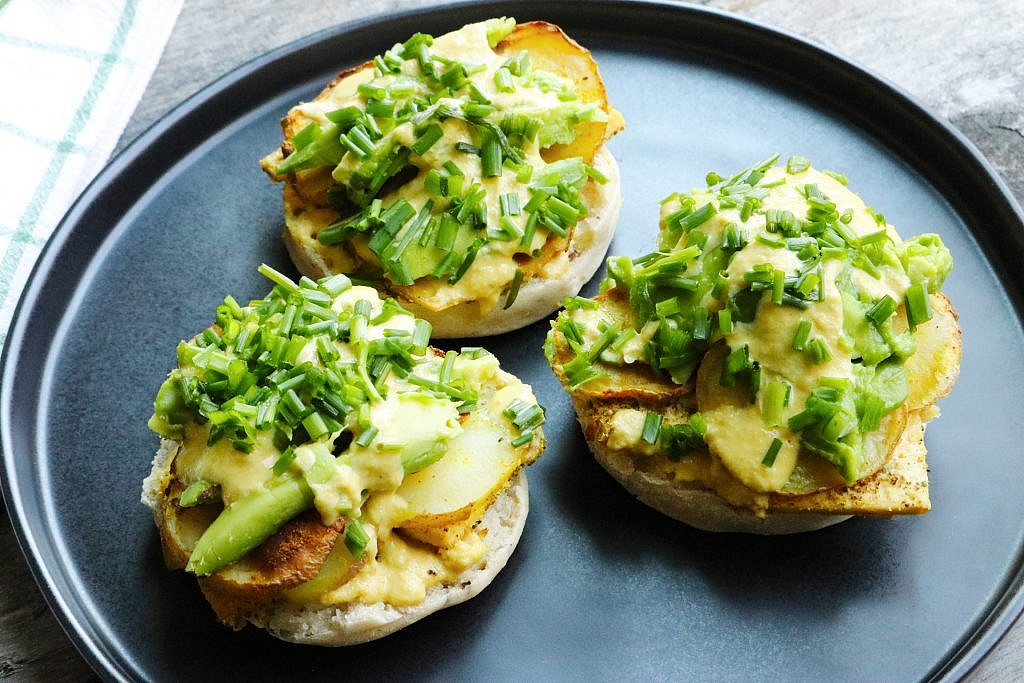 Quick Health Tip: Eggs are not a health food. Research shows that not only do eggs increase IGF-1, additionally they increase choline, which when derived from animal sources have shown to raise Trimethylamine oxide (TMAO). This compound is formed when choline from the highest dietary sources such as meat, dairy and eggs gets converted to TMA by the gut bacteria and is then broken down to TMAO by the liver. Ultimately, this may lead to whole body inflammation and thereby may raise one's risk of developing certain types of cancer, heart disease, stroke, diabetes, etc.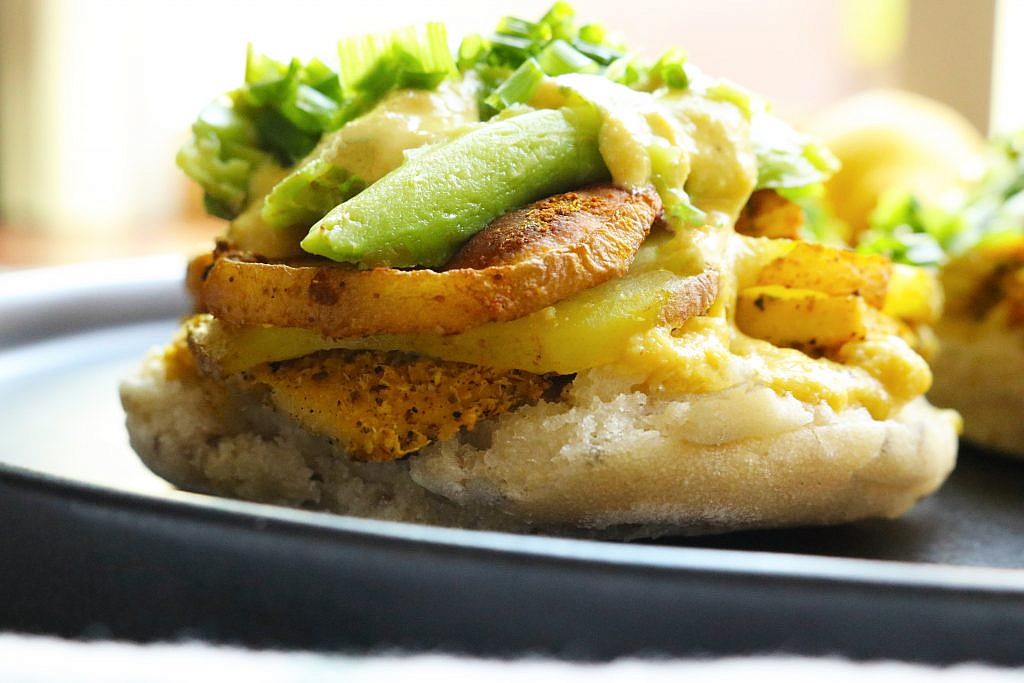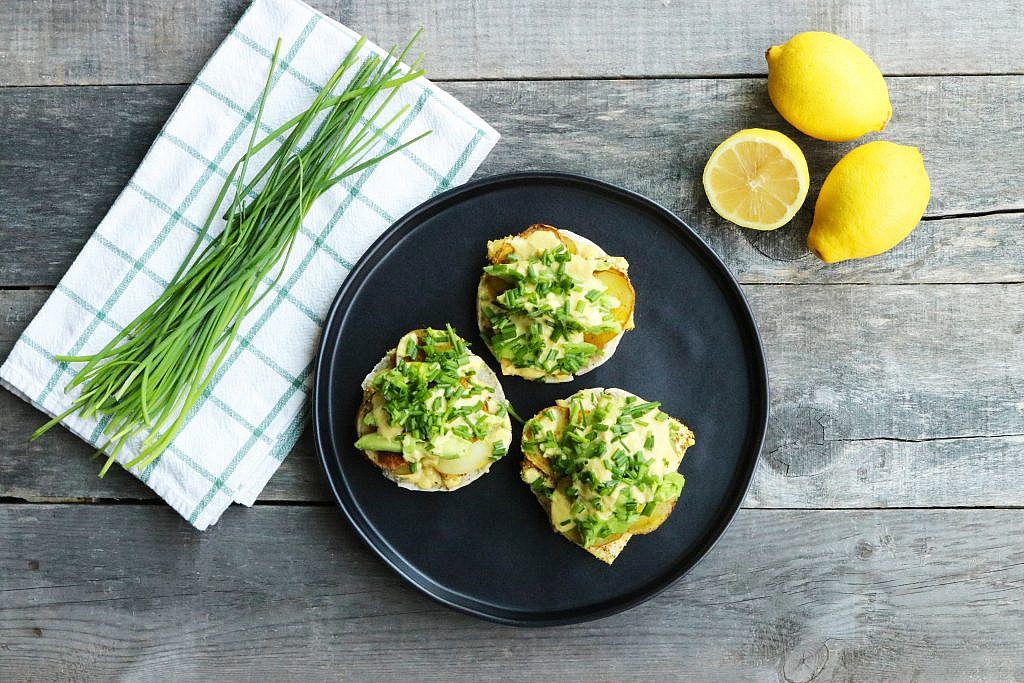 Ingredients
2 - 3 large organic red potatoes
1 package of extra firm organic tofu
1 package of organic whole grain English muffins
1 – 1 ½ organic avocados
2 cups organic raw cashews (soaked overnight)
1 – 2 organic lemons (juice)
1/2 - 3/4 cup of nutritional yeast
Suggested Spices: organic granulated garlic powder, organic onion powder, Celtic gray sea salt, organic cracked black pepper, smoked organic paprika, organic turmeric powder, organic cumin, organic cayenne pepper or organic chipotle powder
Toppings: desired amount of fresh organic chives and/or fresh organic green onion
Optional: desired amount of filtered water to thin down the cashew sauce or 1-2 TBSP of organic raw cashew butter to thicken cashew sauce
Directions
Leaving the skin on, thinly slice your potatoes. Use a mandolin if you have one.
Line a stainless steel baking pan with a piece of unbleached parchment paper.
Spread the thinly sliced potatoes onto the baking pan in a single layer.
Sprinkle a generous amount of granulated garlic powder, onion powder, cracked black pepper, smoked paprika and turmeric powder over the potatoes.
Sprinkle a small amount of Celtic gray sea salt and cumin over the potatoes. Depending on how spicy you like your food, sprinkle a small amount of cayenne pepper or chipotle powder on them as well.
Skip the oil! Instead, pour approximately 1-2 TBSP of filtered water around each corner of the baking pan. The trick is to avoid submerging the potatoes in water, while keeping the pan moist. With some practice, you can definitely master this cooking trick!
Bake the potatoes at 400 degrees Fahrenheit for approximately 25-30 min and set aside.
Next let's prepare the tofu. Firmly press down on your tofu to drain excess water. Once you feel most of the water has been removed, thinly slice your tofu.
Using a baking pan lined with unbleached parchment paper, place your tofu slices in a single layer onto your pan.
Sprinkle a generous amount of granulated garlic powder, onion powder, cracked black pepper, turmeric powder and nutritional yeast over the tofu. Add a pinch or two of gray Celtic sea salt over the top or if you prefer, you may splash 1-2 TBSP of low sodium organic tamari over the top instead.
Bake the tofu at 380 – 400 degrees Fahrenheit for approximately 25-30 min. Remember to flip the tofu over half way through baking.
Okay it's sauce making time! Using a food processor blend your cashews, lemon juice, nutritional yeast and a desired amount of garlic powder and cracked black pepper. Add in a pinch or two of Celtic sea salt. Depending on your desired thickness of the sauce, you may want to thin it down a bit by adding a splash or two of filtered water. If you find that you have thinned out the sauce too much, add 1-2 TSP of raw cashew butter to the mixture.
Cut your avocado into thin slices.
Chop up your chives and/or green onions.
Using a toaster or oven, toast your whole grain English muffins. I highly recommend Food For Life Ezekiel Sprouted Whole Grain English Muffins.
Now for the fun part…layering! Beginning with your English muffin, spread the cashew sauce over the top of it. Place slices of tofu onto the muffin, then the potatoes, then slices of avocado. Pour a generous amount of cashew sauce over the top.
Lastly, get your green on and sprinkle a handful of fresh chives and/or green onions over your masterpiece!
Warning, when making this for your friends or family, watch out, they may want to come back for more EVERY weekend thereafter.
Hope you have a sensational weekend!