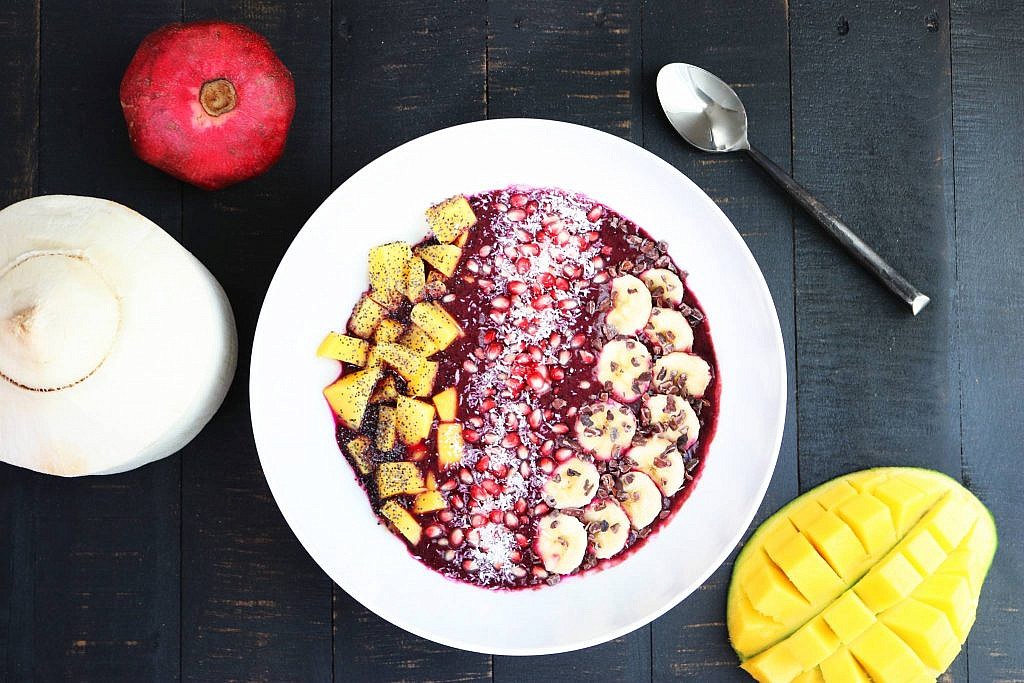 This one's for all of you smoothie lovers. I always say that a perfect way to start your day is with whole vegetables and fruit and that's exactly what this recipe calls for. You can literally alter the ingredients depending on what your favorite fruit and leafy greens are. Just let your taste buds take the reins!
Quick Health Tip: Find ways to incorporate vegetables in the a.m. Whole plant foods are truly unprecedented in their phytonutrient content, which is key in thwarting off free radicals and in diminishing inflammation; both of which are important in preventing chronic disease.
Ingredients
2 packages organic one-ingredient frozen dragon fruit
1 frozen organic banana
2 large handfuls organic spinach
2 tbsp (or more depending on desired thickness) ground organic flax seed
Coconut water from an entire Thai coconut
1 fresh organic banana
1 fresh organic mango
1/2 cup organic pomegranate seeds
Organic poppy seeds
Organic unsweetened shredded coconut
Organic cacao nibs
Directions
Pull out that wonderful blender of yours.
Place the dragon fruit, frozen banana, spinach, ground flax seeds and coconut water into the blender and well, blend away!
Once smooth, divide equally into two large bowls.
This is my favorite part. Add your toppings! For this dish, add in banana slices, mango, pomegranate seeds, poppy seeds, shredded coconut and cacao nibs. The choices here are limitless.
Easy-peasy! Wishing you a wonderful day!