13 Feb 2017
Heart-to-Heart No Bake Chocolate Peanut Butter Mini Cheez Cakes
in Indulgence
Ahhh, love is in the air! What better way to say I love you than with these irresistible chocolate cheezcake treats? Living a whole food plant-based lifestyle does not equal deprivation or the feeling of having to give up things you love. It's simply about replacing the things you love with more nutritious options on which your body will thrive. Love your body…choose ingredients that are whole, come from mother nature and are mostly plants. I promise, once you start converting your entire lifestyle with this in mind, you will notice a significant difference on every level of your being!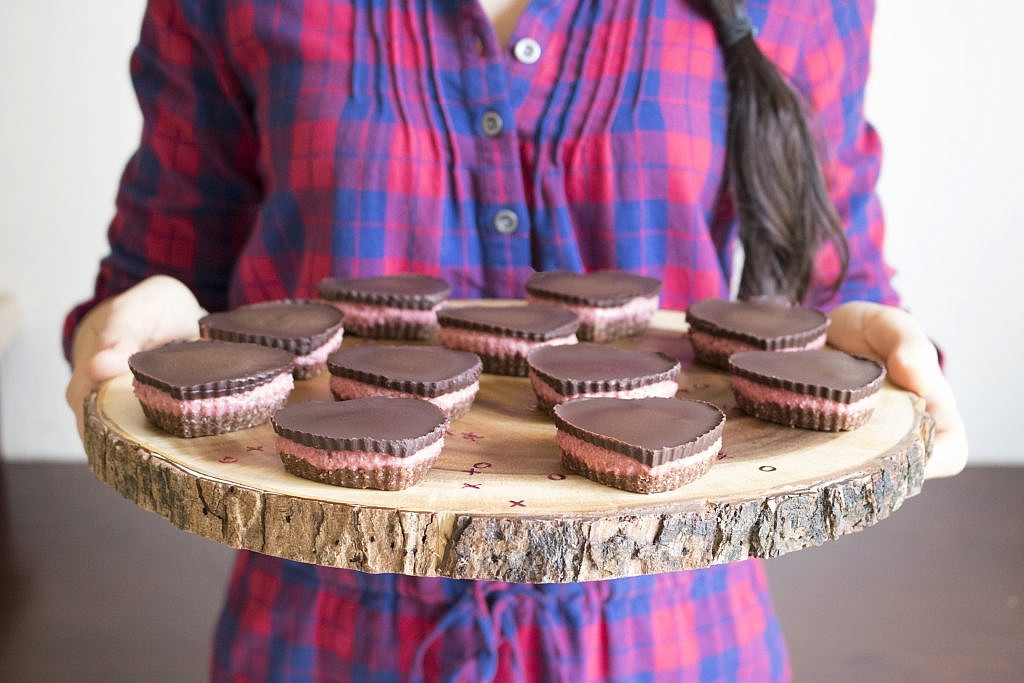 Quick Health Tip: Cacao vs cocoa = BIG DIFFERENCE! Cacao is truly a "superfood." It is raw, unrefined, high in essential fatty acids like oleic acid, which helps to lower LDL cholesterol and raise HDL cholesterol, it contains amazing polyphenols like flavonoids such as antioxidants and minerals such as calcium, magnesium, potassium and sulfur. Cacao contains vitamins such as B1, B2, B3, B5, B9 and E, helps to lower blood pressure, increases energy, enhances mood, etc. Cocoa on the other hand, which is sadly the most common form of chocolate found in stores, is highly refined, stripped of nutrients, filled with chemicals, refined sugar, dairy, artificial flavors, trans fat and is highly inflammatory. Read your labels! Try to find the purest form of cacao possible. When opting for a chocolate bar…choose one with whole ingredients!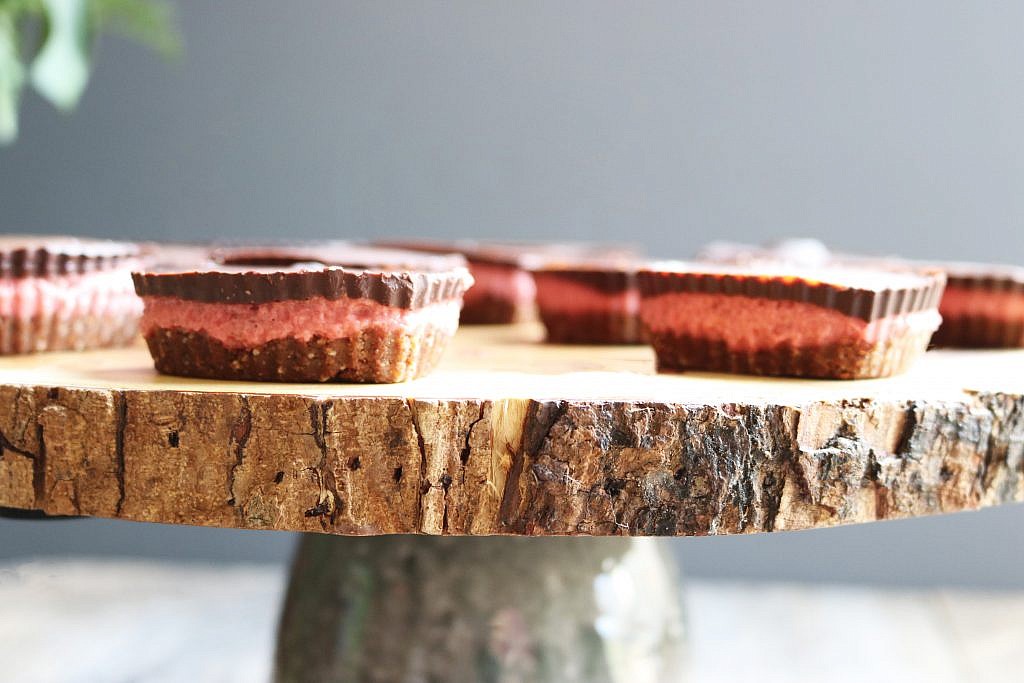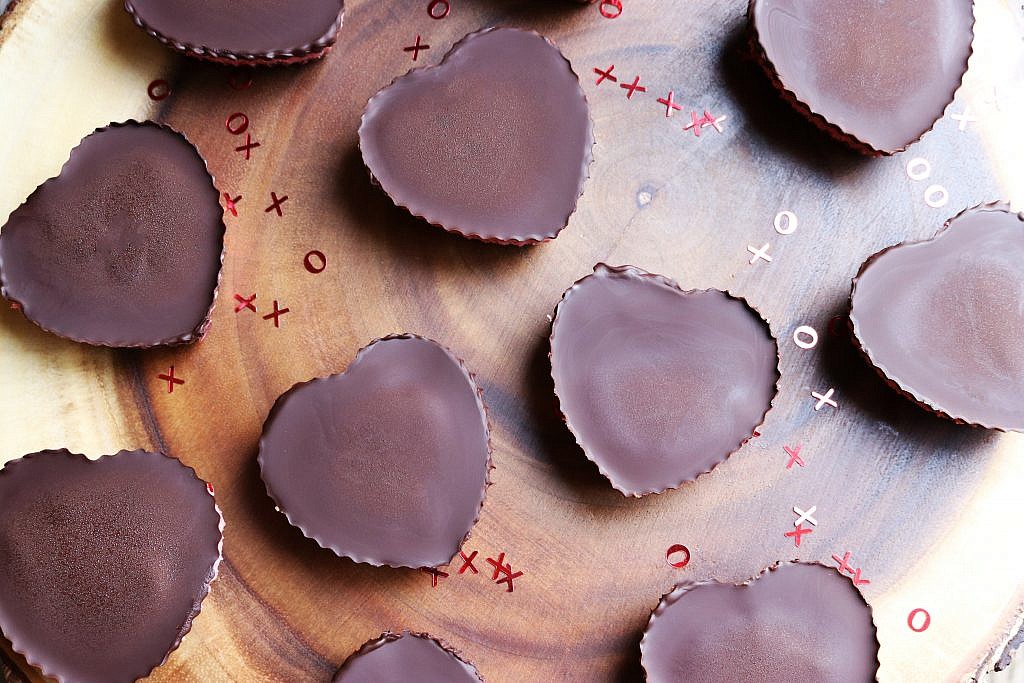 Ingredients
Approximately 12 large pitted organic medjool dates
2 cups raw organic nut flour: your choice of almond, pecan, walnut or a combination
2 tbsp one-ingredient organic cacao powder
Meat from 1 Thai Coconut or 2/3 cup desiccated coconut
1/3 cup filtered water
3/4 cup one-ingredient organic peanut butter
1/3 cup soaked overnight raw organic cashews
1/3 cup organic one-ingredient maple syrup
Juice from 1/2 organic lemon
1/3 organic vanilla bean
3 tsp one-ingredient beet powder
1 1/2 (3 oz) bars organic dark chocolate
Directions
Fill your food processor with dates, nut flour and cacao powder. Process until well blended.
Grab 24 baking cups of your choice. For this recipe I used heart-shaped food grade silicone liners. If you decide to use paper baking cups, I recommend unbleached totally chlorine-free cups.
Disperse the crust mixture evenly amongst your cups. Firmly press down the mixture in each cup to make your wonderful crust.
Now onto your cashew cheez filling!
Use a Thai coconut if you can find one, but don't worry if you can't. Keep in mind, when using desiccated coconut rather than a Thai coconut you should blend your 2/3 cup of coconut with 1/3 cup water on its own before blending it with the remaining cheezcake filling ingredients. Ensure it is completely smooth and well blended.
Place the coconut meat, water (unless already used with desiccated coconut), peanut butter, cashews, maple syrup, lemon juice vanilla bean and beet powder into your clean food processor and blend away until smooth. I used the beet powder solely for the purpose of making these a pinkish red color, so if you don't want to add it in then you don't have to, but how much cuter are they colored especially for Valentine's Day!
Disperse your cashew cream cheez mixture evenly into your 24 cups.
Place cups into the freezer for up to an hour or so to allow them to set.
Once you're almost ready to take the cups out of the freezer, it's time to melt your dark chocolate. I say skip that microwave of yours and melt your chocolate over the stove.
Using a small pot, fill it with water that you will then bring to a boil. Place a heat resistant glass bowl over the top of your pot. Make sure the bowl does not come into contact with the boiling water. Place your chocolate squares in the bowl and stir often to ensure chocolate doesn't burn and is evenly melted.
Last step! Take out your mini cheezcakes from the freezer and pour a layer of dark chocolate over the top of each one.
Place your cheezcakes into the freezer for 5 – 10 minutes to set and that's it!
You're now ready to melt the heart of your Valentine;)