1 Dec 2016
Super Moist Dark Chocolate Walnut Oatmeal Cookies
in Indulgence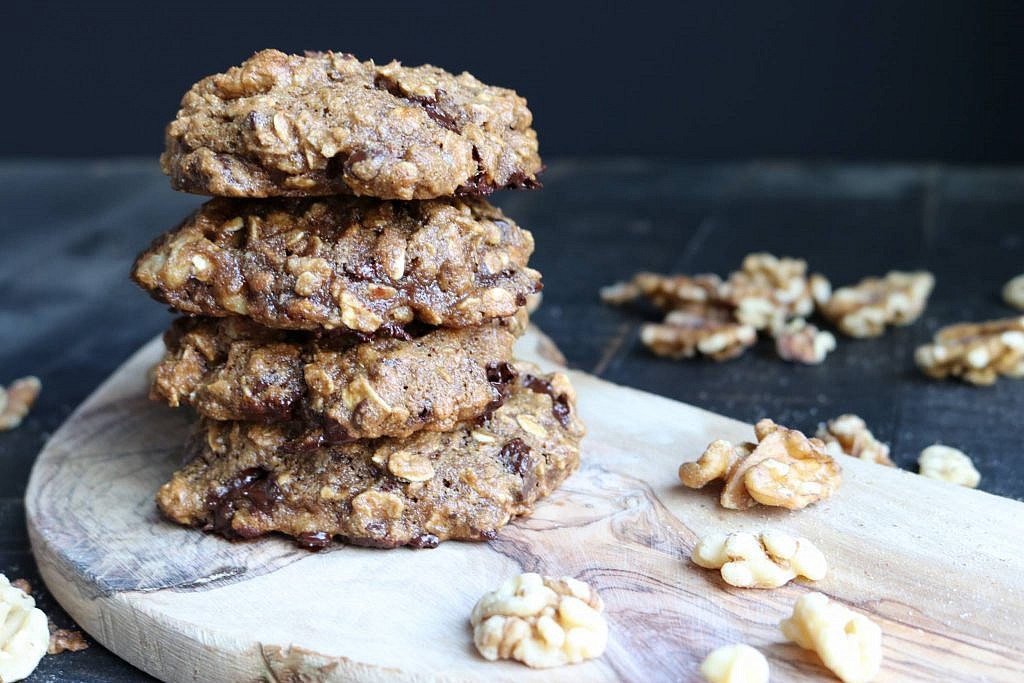 Because sometimes you just have to. Have you ever tried a Doubletree Cookie? The hotel chain is great and before going whole plant-based I found their free welcome cookies quite irresistible, but wow, did you ever look at the ingredients? Oh Doubletree, if only they would step up their welcome gesture. Until then I say, make it yourself! Well, I can honestly say that I've created a recipe that is insanely delicious, devoid of any dairy, propylene glycol, refined sugar, caramel color and therefore healthy unlike its predecessor. This whole food plant-based version will not only impress your friends and family, they will be begging you to make them again and again!
Quick Health Tip: Remember, when choosing dark chocolate look for products with the least amount of ingredients. Stay away from fillers, natural flavors, and GMO emulsifiers such as GMO soy lecithin.
Ingredients
1 cup sprouted spelt flour
1 cup organic rolled oats
1/2 tsp baking soda
1/2 tsp gray Celtic sea salt
1/4 cup organic one-ingredient cashew butter
1/2 cup unsweetened one-ingredient organic apple sauce
1/2 cup organic coconut sugar
1/2 cup (or less) pure organic maple syrup
1 cup raw dark chocolate
1 cup raw organic walnuts
Directions
Begin by preheating the oven to 350 degrees Fahrenheit.
Combine all of your dry ingredients including the spelt flour, oats, baking soda and salt into a large bowl, then mix and set aside.
After making your marvelous two-ingredient flax eggs, place the flax eggs, cashew butter, apple sauce, coconut sugar and maple syrup into a separate bowl and mix thoroughly until fully blended.
Next add the dry ingredients into the bowl containing the wet ingredients and mix, ensuring that the batter is evenly blended.
Stir in your raw dark chocolate and walnuts. Mix until even.
Line a stainless steel baking pan with an ungreased and unbleached piece of parchment paper.
You're almost there! Now just roll the mixture into 16 fairly uniform balls. Place each ball onto the baking pan ensuring that they are evenly spaced apart. Using your fingers, don't forget to flatten each ball a bit. For best results, try baking only 8 at one time.
Bake for 20 minutes at 350 degrees Fahrenheit.
Can you smell the goodness permeating the air?
If you can refrain from diving in, then transfer the cookies to a wire rack and allow them to cool.
This is one temptation that'll surely keep you coming back for more!